Best Brunch Spots In Miami 2021
There are endless things to do in South Florida.  Dining out is on the top of visitor's favorite things to do.  Brunch is especially nice to take full advantage of the beautiful outdoor and indoor dining options in the sunny playground of Miami.  Cuisines are abundant as are the choices of where to enjoy them. Below are some of the newest additions to the scene we hope you will have a chance to enjoy.  
1.
EstiatorioOrnos a Michael Mina Restaurant
19565 Biscayne Blvd Ste 946
Aventura, FL 33180
(786) 697-1681
Try a spin on Greek faire with an Americana style twist.  Featuring non traditional brunch options at EstiatorioOrnos, the new trendy weekend hot spot. Offered on the weekends  from noon to 5 p.m. Enjoy dishes like crab cake benedict, smoked salmon pita, Mykonian steak & eggs, baklava French toast, Yianni's frittata, and Ouzo shrimp linguini. Pair it with bottomless rose and Diane Mina's Bloody Mary's for just $22 more. They have lighter and more refreshing options than most of the other brunch spots if you are watching your figure.  
2.
Mau Miami
3252 NE 1st Ave #109
Miami, FL 33137
(786) 559-2666
In the mood for a fiesta vibe? Quench your cravings with some Tulum vibes at Midtown's new guy on the block,  Mau Miami's new weekend brunch spot. Feast on a la carte selections like avocado toast, steak and eggs, lomosaltado Benedict, bagel and lox, and more. Wash it down or sip it slowly with $20 bottomless mimosas.  YUMMM! Brunch is served every Saturday and Sunday from 11 a.m. to 4 p.m.
3.
Traymore by Michael Schwartz
2445 Collins Ave
Miami Beach, FL 33140
(305) 695-3555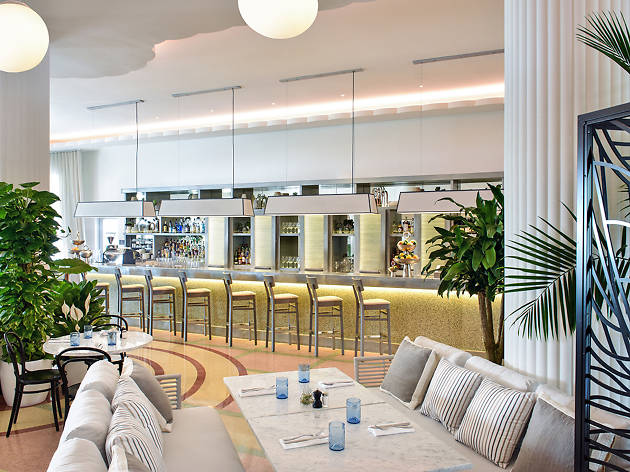 This little number is available on Sundays only from mid-day until 4:00 pm. This is the newly revamped with a trendy flair and chic South Beach style.  Michael Schwartz's newly remodeled, Traymore restaurant is offering an a la carte brunch with dishes like French toast, roasted chicken, grilled hanger steak, Genuine's egg Benedict, that can be coupled with brunch cocktails like a bacon Bloody Mary, Bellini, or a Limoncello cooler.  After a meal so delicious, it will be best to take a stroll to walk it off.  
If you plan on hitting the beach after brunch, don't forget to take your
beach towel
.  You can find fun prints, at
southbeachtowel.com
. They are compact, lightweight, dry quickly, and make the perfect beach accessory.  Buy one for each member of the family and beach go in style!